I was born in Italy in 1984. I studied at the School of Art in Urbino and I have a Masters Degree in Visual Design from the Academy of Fine Arts in Urbino.
Being born at Fabriano, a town with a historic tradition of paper making, I feel I have a strong bond with this material which I consider to be much more than a common object of everyday use. For me, paper is not just a support to cover with colour, but rather it is the true protagonist of the work of art.
My studies focalize on the necessity of leaving an indelebile mark on the paper by means of strong invasive action such as making holes and cuts in it. None of my works can be erased or covered over with colour. The paper has been cut, there is no going back; it has its own form, it tells its own story, like the human skin. Some of my works can be touched, eyes closed, to give them new form evoked through the sense of touch and the imagination. With others, instead, it is as like being immerged in worlds made up of cut-out layers which eventually sink into a dream.
Through the medium of paper I try to create new walks and broader landscapes to discover, suggesting a new relationship between us and each other and between us and our world.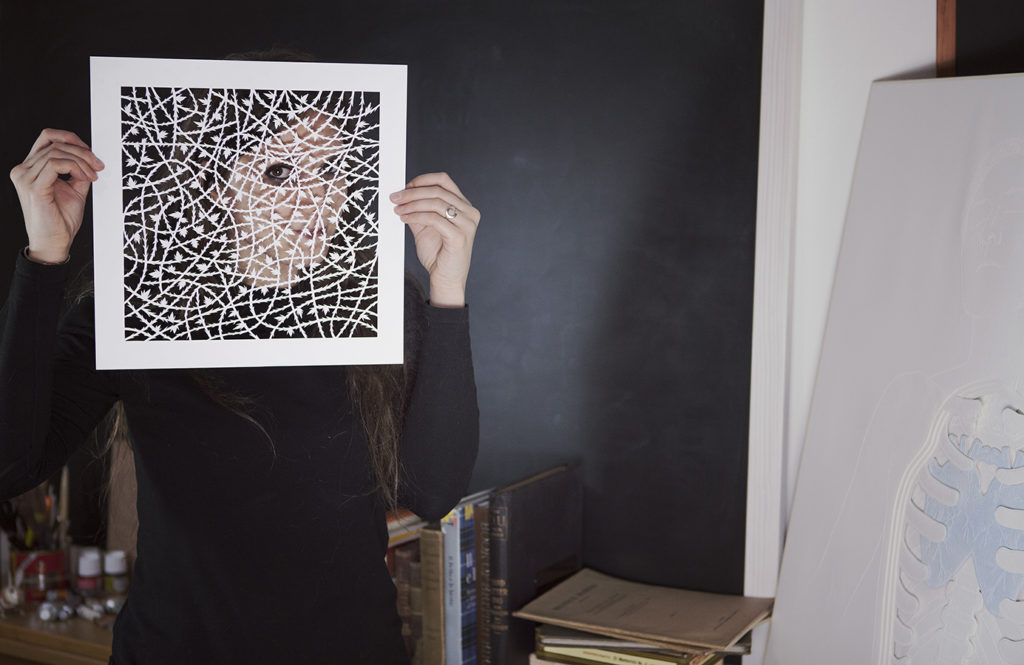 I work hard and I constantly evolving and developing my style.
I passionately believe that art is more than aesthetics; it serves as a conceptual statement that prompts us to improve ourselves and the world we live in.
---
EDUCATION
– 2008 / 2010 Academy of Fine Arts, masters degree in Visual Design, Urbino, Italy
– 2005 / 2008 Academy of Fine Arts, bachelors degree in Multimedia Design, Urbino, Italy
– 2003 / 2005 Art Institute, advanced course in Traditional Animation, Urbino, Italy
EXHIBITIONS
– 2023 Untranslated, group exhibition, Sensi Art Gallery, Colle di Val D'Elsa, Italy
– 2023 11° Triennale internationale du papier Viviane Fontaine, group exhibition, Musée de Charmey, Switzerland
– 2021/22 Tracarte, group exhibition, Fondazione dei Monti Uniti, Foggia, Italy
– 2021 Tutto in un abbraccio, group exhibition, Sensi Art Gallery, Colle di Val D'Elsa, Italy
– 2018 Look at the smell, group exhibition, Sensi Art Gallery, Colle di Val D'Elsa, Italy
– 2017 INDEX Design Series, Art Fair, Create Hub Gallery, World Trade Center, Dubai
– 2017 SetUp Art Fair, Art Fair, Sensi Art Gallery, Bologna, Italy
– 2016 Vegetale Contemporaneo, group exhibition, Sensi Art Gallery, Colle di Val D'Elsa, Italy
– 2016 La parte per il tutto, bipersonale, Sensi Art Gallery, Colle di Val D'Elsa, Italy
– 2016 Launch of Gallery 48, group exhibition, Gallery 48, Dundee, Scotland, UK
– 2016 SetUp Plus! INCIPIT, studio legale Evolve, BiBox Art Space, Bologna, Italy
– 2015 Selvatica, natura in festival, group exhibition, BiBox Art Space, Biella, Italy
– 2015 SetUp Art Fair, Art Fair, BiBox Art Space, Bologna, Italy
– 2014 Operazione Arcevia. Art Contest, group exhibition, Riserva Privata San. Settimio, Arcevia, Italy
– 2014 Zingarelli Art Prize "Rocca delle macìe", group exhibition, Castellina in Chianti, Siena, Italy
– 2013 / 2014 Inter/National, group exhibition, Box Heart Expressions Gallery, Pittsburgh, Pennsylvania, USA
– 2013 BiGam, Young Artists Biennial from Marche, group exhibition, Civitanova Marche, Italy
– 2013 ArtVilnius, Art Fair, Maelström Art Gallery, Vilnius, Lithuania
– 2013 Nurant, group exhibition, Gogol & Company, Milan, Italy
– 2013 In natura, group exhibition, BiBox Art Space, Biella, Italy
– 2009 Identità Mutanti, group exhibition, Circolo culturale Bertolt Brecht, Milan, Italy
– 2008 ZOE-microfestival, group exhibition, Orti Giuli Garden, Pesaro, Italy
– 2007 Perle National Festival, group exhibition, Monte Cialdini Barracks, Pesaro, Italy
AWARDS
– 2014 First Prize, Zingarelli Art Prize "Rocca delle macìe", Castellina in Chianti, Siena
– 2014 Finalist, Operazione Arcevia. Art Contest, Riserva Privata San. Settimio, Arcevia
– 2014 First prize, Inter/National, Box Heart Expressions Gallery, Pittsburgh, Pennsylvania
– 2013 Finalist, Oasis draws nature, Italian Tourism Naturalistic Association, Turin, Italy
– 2011 Third prize, The sound of Pixel, Flashfumetto and International Comics Festival BILBOLBUL,
Bologna, Italy
– 2009 Finalist for the stop-motion short film Insecta, Festival of Independent Cinema
Filmakers al Chiostro, Pordenone, Italy
– 2009 Finalist for the stop-motion short film Insecta, Macerata Spark film festival 2009, Macerata, Italy
– 2009 Third prize, Moving Pixel, Flashfumetto and International Comics Festival BILBOLBUL,
Bologna, Italy
– 2006 Award for the stop-motion short film Mr. Martino Tappi, 4°edition Civitanova Film Festival,
Civitanova Marche, Italy
– 2006 Award for the stop-motion short film Mr. Martino Tappi, 41° International Festival of the
New Cinema, Pesaro, Italy
– 2005 Award for children illustration, 10° International prize Scarpetta D'Oro, Padova, Italy
– 2005 First prize for the animation Verrà la morte e avrà i tuoi occhi, 40° International Festival of the
New Cinema, Pesaro, Italy
– 2004 Award for children illustration, 9° International prize Scarpetta D'Oro, Padova, Italy
– 2004 First prize for the short film H.I.V., Pfizer drugmaker
PRESS AND PUBLICATIONS
– 2021 – Cover, La leggenda del Capo di Buona Speranza, Lorenzo Allegrini, edizioni il Viandante
– 2017 – Cover and illustration, Apocalisse Pop!, Lorenzo Allegrini, edizioni il Viandante
– February 2017 – Art People Gallery
– April 2017 – My Modern Met
– April 2017 – Hipeblaze
– April 2017 – Incredibilia
– May 2017 – Fubiz Media
– May 2017 – Vibration Clandestine
– May 2017 – The Creator's Project, Vice media
– May 2017 – Unsorted
– June 2017 – Diedrica un blog sobre arte y arquitectura
– June 2017 – Journal du Design
– March/September 2016 – Art People Gallery
– 2016 Average Art Magazine, Liverpool
– 2014 Lo Straniero, Rome, Italy
– 2013 Nurant, Milan, Italy
– 2011 Lo Straniero, Rome, Italy
– 2007 Cover for Pagine Giovani, Rome, Italy
– 2007 Pennedoka, Alessandria, Italy
PUBLICATION OF OWN WORKS on catalogues
– Tracarte 8, Gepal pubblicità, Avellino, Italy 2021
– SETUP contemporary art fair, NFC editions, Rimini, Italy 2017
– SETUP contemporary art fair, NFC editions, Rimini, Italy 2015
– Silenziosi racconti, NFC editions, Rimini, Italy 2014
– BiGam, Young Artists Biennial from Marche, Grafiche Fioroni editions, Fermo, Italy 2013
– Flashfumetto, comma22 editions, Bologna, Italy 2011
– Flashfumetto, comma22 editions, Bologna, Italy 2009
– Identità Mutanti, Milan, Italy 2009
– International prize Scarpetta D'Oro, lapress editions, Venice, Italy 2004
– International prize Scarpetta D'Oro, lapress editions, Venice, Italy 2005
COMMISSION
– 2023 Scenography for a song for Tiziano Ferro's 2023 tour.
– 2012 Animation assistant and post-production of the animation inserted in the film Tutto parla di te 
directed by Alina Marazzi (winner of the Golden Camera for Best New Director and for the best
 production at the 7° Edition of the International Rome Film Festival)